The Nike Zoom Vomero comes into it's eighth iteration here but not a whole lot has changed between the Vomero 8+ and the Zoom
Vomero 7+
. The shoe is virtually unchanged from its predecessor. So take that as you will; fans of the Zoom
Vomero 7+
will love the Zoom Vomero 8+, those who felt that the Zoom Vomero 7+ wasn't for them won't find any redemption with this new update.
I have to admit right here that I was never a Nike runner. I had always seen them as shoes that you could get at any old department store or sport-inspired apparel and footwear stores. It would have been a serious runner faux-pas to be seen in Nikes; after all, the Swoosh could be found on almost any
jogger
out there in long basketball shorts (or sweats in the middle of the summer- yes it's happened). Other than on the track (where Nike offers some of the best spikes ont he market), no serious runner would be caught dead in Nikes... right? Well, maybe not so much. These Vomeros slid across my desk a month ago, and not being one to pass up at the chance for more shoes to run in, said why the heck not and away I went.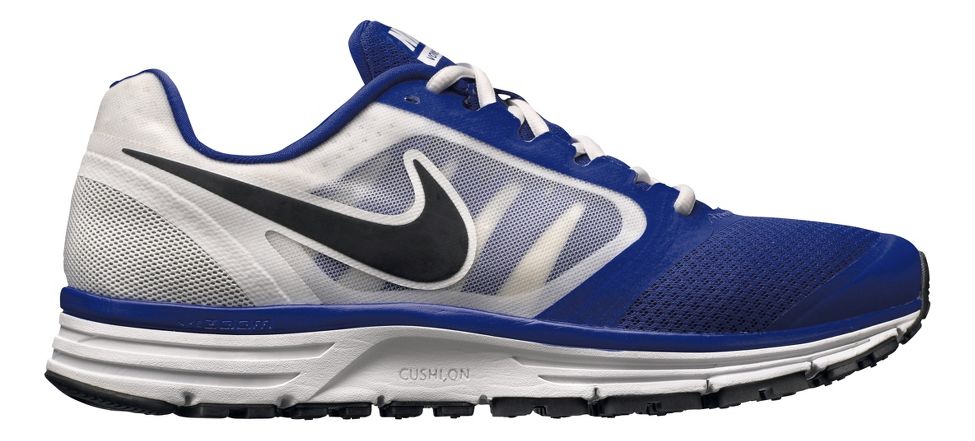 The Zoom Vomero 8 +is a big shoe. It's big on comfort, on cushioning, on colour, and on fit. One of the most immediately noticeable things about the Zoom Vomero 8+ is that it is vibrant. Now, mine are a nice royal blue with white (pictured) but they come in neon orange, neon green and neon yellow- screamingly bright, big colours. It seems as though Nike has been going this direction as of late, as many of their new flyknit shoes coming out are in bright neon colours (have you SEEN the new Nike frees?). Yet the Zoom Vomero 8's looks are pretty basic. For a shoe that is $175 CDN I was expecting a shoe that just looked a little more flashy. Maybe I'm basing it off the fact that it's main competition group includes the ever flashy GEL
Nimbus
and
Glycerin
, I was expecting something a little more. But as I put the Zoom Vomero 8+ on my foot I can see the advantage of not having all that flashy excess in the stitching. The Zoom Vomero 8+ offers a seamless toe box and minimally seamed midfoot for a very roomy and comfortable shoe. For people who are prone to chafing around their metatarsals or blisters around their toes, the Vomero 8+ offers a welcome roomy, seamless fit. The shoe runs wide through the toe box, so for people who like their toes to splay a bit or for people who need the extra space, the Vomero 8+ works fine. My narrow foot runs nice and comfy in the shoe and Runner's Mark mastermind Carl, whose foot runs wide, says he loves the fit as well.
The Vomero 8 runs on an ultra-plush Nike
CUSHLON
midsole. Featuring a traditional 12mm drop from a 30 to 18mm stack height and coming in at a portly (by today's standards) 11oz (men's size 9), the Vomero 8 is a beefy shoe. It is out to challenge the other neutral, fully cushioned giants like the GEL
Nimbus
, the
Glycerin
, and the
NB1080
; and in regards to pure comfort and cushion, the Vomero 8+ more than rises to the challenge.
The Vomero 8+ is also fully NikePlus capable- put in your Nike pod and hook it up to you iPod/iPhone/ Nike Sportwatch/ other NikePlus products. It's pretty neat technology.
Not all is well in the world of the Vomero 8+ however. For people looking for a fast shoe to do quicker workouts or track work, you might want to think a little more about your shoe choice. The Vomero 8+ is a heavy shoe geared for heel striking comfort. Forefoot strikers won't like the traditional 12mm drop, the high stack height (which I personally feel like I'm wearing platform shoes), and the heavier weight. I also have a gripe with the bottom lugs.
The bottom lugs are almost like individual "caterpillar" squares. They offer amazing grip, such that these would transition well onto all but the most rugged surfaces (even then they might work out just fine), but for doing speed work in them they fall short of what you would want. Speedier workouts seemed to cause the treads to move and compress individually too much while running- they are just too soft to be doing anything quick. The individual lugs move and slide more than what I would like while doing some up-tempo work, causing more friction on the underfoot than speed work really calls for.
The Vomero 8+ offers a plush, comfortable ride for those looking for an everyday, high mileage trainer. It offers "go anywhere" traction, and a traditional heel drop. This should be a go-to for neutral heel strikers looking for a soft ride. For people looking to be doing some faster training or if you are more of a new-age, fore foot runner, the Vomero offers a comfortable ride to be sure, but won't do you any favours with its weight, high stack height, and traditional heel drop.
~E